Limited stock of Sweetcorn ~ Mirai picnic F1 Bumper Pack (June).
Next dispatch will be June plants which will start after 5th June, it will included beetroot, purple sprouting broccoli, Brussels sprouts, cabbages, cauliflower, fennel, swede, turnip, leek, cut & come again salads, strawberries (dispatch runs to 21st June), there is still time to order ~ June plants, click here.
Brussels sprouts - Dawn's collection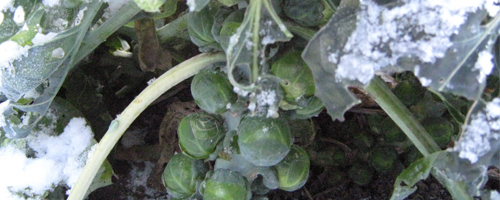 Brussels Sprouts are not just for Christmas, under rated vegetable, with this collection we are trying to give you a greater choice and a wider harvesting period.

2 plants x 4 varieties
Brussels Sprouts ~ Nautic F1
Brussels Sprouts ~ Doric F1
Brussels Sprouts ~ Petrus
Brussels Sprouts ~ Red Bull

2 free Flower Sprout plants~
Flower Sprout® is a brand new vegetable, as cross between a Brussels sprout and kale. The plant is similar to a Brussels sprout but forms open rosettes up the stem to a frilly-leaved top. They look like tiny cabbages with flashes of purple, edged with frilly-green leaves. They crop from November until March.
Collection consist of the following varieties: